Next seminar will take place on March, 25th, 2017 (Saturday) at 18.00. Please call us to know more >>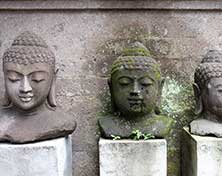 How do we see our mission?
Read about it here >>
Welcome to our Meditation Center.
We are right in the heart of Saint Petersburg, three minutes' walk from Nevsky Prospect and Gostiny Dvor Metro stations, or ten minutes from Admiralteyskaya station.
Once a week at present (although we will soon be meeting more often), we practice classical Buddhist meditations given to us at the Buddhist Institute in Delhi, India. The Center is led by renowned meditation expert Dupseng Rinpoche.
About Buddhist meditation
The aim is to achieve enlightenment, a state of timeless joy and happiness
We use the classical techniques, tried and tested over millennia
You will be following in a great tradition, handed down over the centuries from generation to generation
The spiritual leader of our Center is an expert in meditation bearing the title Rinpoche, which gives some assurance that his teachings will yield maximum benefit and will certainly not cause harm (something that you should, of course, ascertain for yourself).
News
25 March 2017, 18:00 – Meditation in Everyday Life (beginners' seminar)
1 October 2016, 18:00 – Seminar with yogi Igor Lopatin, who has been on three summer retreats in the Himalayas
27 August 2016, 18:00 – Meditation in Everyday Life (beginners' seminar)
2 July 2016 – beginners' seminar held. Open lecture and practice >>
25 June 2016 – the Center's first communal meditation
Getting started
For beginners
If you are a novice and have never meditated, come to our introductory lecture and practice. These take place on the last Saturday of every month at 18:00 (from March 2017 only – no activities during winter).
Payment is by donation (you can put whatever amount you like in the collecting-box on the way out of the lecture; nobody will be looking).
You will learn what meditation is, how it works, and how to combine it with city life. You will also try meditating under our guidance.
For Buddhists
If you are already a practicing Buddhist, you are welcome to attend our meditations every Sunday at 18:00.
We practice meditation according to the classical methods of Vajrayana. The spiritual and practical leader of the Center is Dupseng Rinpoche.
What can you expect when you attend? Meditation on Avalokiteshvara, followed by tea with honey and a chat.
Why attend?
In order to progress along the Buddhist path of self-development and discovery, we should meditate every day. But this is hard to do independently over a long period of time. That is why we need traveling companions (the Sangha) and communal meditation.

Why choose us, and who we are
In order to progress along the Buddhist path of self-development and discovery, we should meditate every day. But this is hard to do independently over a long period of time. That is why we need traveling companions (the Sangha) and communal meditation.
Why choose us, and who we are
It is important to understand that what is written below is not advertising. It is just a description of what we are like to help you make the right decision.
For that matter, why not come just the once and see what you make of us?
We are a community of people who practice Buddhist meditation in our everyday lives. We use it to improve our quality of life, so that we can work better, have a better family life, become more joyful and do good for others.
We are not an organization. We are neither a religious body nor a commercial concern. Our aim is to practice meditation, talk about Buddhism and exchange information.
We practice time-tested classical Buddhist meditation techniques
Our teacher is Dupseng Rinpoche, an expert in meditation, Buddhist yogi, instructor and leader of retreat centers in Nepal.
We are supported intellectually and spiritually by seven monasteries in Nepal. When visiting this beautiful country you, too, will be able to go to spiritual places not as a tourist, but seeing it all from the inside, and to speak with the monks and yogis
Fees and venue
When
weekly on Sundays, from 18:00 to 20:00.
Where
26, Griboyedov Canal Embankment, Saint Petersburg, Russia (Metro: Nevsky Prospekt or Gostiny Dvor)

Teachers
Our spiritual teacher and the founder of the Center, Dupseng Rinpoche, is an accomplished Teacher who leads a number of monasteries in Nepal and conducts three-year retreats for other teachers.
With his support, we are assisted by practitioners, monks and Rinpoches from seven Nepalese monasteries. This means that we can travel to these monasteries and retreat centers for study, retreat or simply to visit.
The head of our lineage is Trinley Thaye Dorje, the 17th Karmapa. He sets our overall line of development and our universal teachings. Direct instruction and support for our activities comes, however, from Dupseng Rinpoche.
Tradition
We are admirers and practitioners of Buddhist meditation. Why? Because, in over 2,500 years, Buddhism has never been found guilty of violence or sectarianism.
For that reason, we trust these techniques and are confident that they will change our lives for the better, as they have been doing now for two and a half millennia.
Buddhism is not, in its origins, a religion. We therefore consider ourselves practitioners and do not belong to any religious organization.
At the same time, because Buddhism is vast and because the methods of Chinese, Japanese, Tibetan and South Asian Buddhism are different, we always state that we practice the methods of the Karma Kagyu lineage, which is part of Tibetan Buddhism. However, we adhere to the Rimé philosophy, which rejects narrow sectarianism along with any prohibition on studying Buddhism outside one's own lineage. We are thus free to obtain knowledge from other lineages and from a variety of books and teachers.
A fellowship of centers
Our Center is part of the Manjushri Fellowship, a community composed of:
Twelve lay centers around the world – in Russia (Saint Petersburg), the USA, Europe, Australia and elsewhere
Seven monasteries and retreat centers in Nepal
A retreat center under construction in Thailand
What does this mean for us? It means we can practice communal meditation in Saint Petersburg, and also, when traveling, visit other friendly centers and practice meditation with them.
It also means that we receive guidance and knowledge, not only from Dupseng Rinpoche, but also from other qualified teachers in the fellowship – qualified Lamas and Rinpoches from the monasteries in Nepal.
You can find out more at any time, either in person by having tea with us after meditation, or, if you live in another city, in our messenger chatrooms or on social media. To get in touch, please message us on Viber at +79118406526.
Connect to us